Imago Mundi exhibition at Fondazione Cini, Venice, from August 31st to November 1st 2015!
148 contemporary Bulgarian artists exhibited in Venice at the Map of the New Art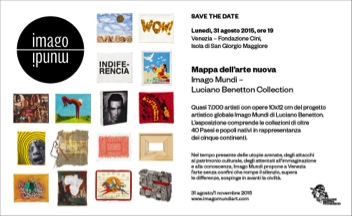 EXHIBITION OPENING: Monday, August 31st 2015, 7.00 PM
LOCATION: Fondazione Giorgio Cini – San Giorgio Island, Venice
On Monday, August 31st, 2015, the Bulgarian contemporary art will be at focus in Venice with 148 Bulgarian contemporary artists exhibited at Fondazione Giorgio Cini, in the Map of the New Art Exhibition, an extraordinary event aimed at presenting an imaginary mapping of over 40 countries and regions in the colors of today's forms of art!
Organized under the aegis of Benetton Foundation, in conjunction with the 56th Venice Biennale and the imminent 2015 Venice Film Festival, the exhibition will present the most outstanding and recent outcomes of the Imago Mundi collection, the first global project in contemporary art whose main goal is to draw an updated panorama of the contemporary art phenomenon worldwide on an original format of 10 x 12 cm canvas.
Curated by Claudio Scorretti and Irina Ungureanu, Save the Dreams, the Bulgarian collection of Imago Mundi, completed recently in the first half of 2015, showcases the contemporary art of Bulgaria, eastern gate of the Balkan Peninsula and link between East and West, Europe and Asia Minor, the Danube and the Black Sea, traditionally a place of transit and of extraordinary cultural heterogeneity. 148 works of art that reflect the creative fervour and the imaginative, ironic, joyous and sometimes desperate Bulgarian identity that is currently under construction. A collection that brings together artists of different generations and with contrasting aesthetic ideas, painters with a classical approach to the canvas and contemporary artists for whom the canvas is merely a tool. Artists living in Bulgaria or who have left the country, teachers or students for whom the most important thing is freedom of speech and debate. Published in three languages, the catalogue of the Bulgarian collection, which has been issued recently, enjoyed, together with the whole project, the support and expertise of Maria Vassileva, chief curator of the Sofia City Art Gallery and of Gaudenz B. Ruf, refined collector and founder of the Ruf Award and Supporting Programme in Contemporary Art, former Ambassador of the Swiss Confederation in Bulgaria, of artist Elena Panayotova as well as of the galleries Rakursi, Monev and Arosita from Sofia. The editing and translation of the catalogue in Bulgarian and English was insured by Irina Cherkelova.